SERVICE OPTIONS
BrockStar makes sure all interior treatments are applied with your family in mind. Pets and children will be safe from our products and baits. All of our service options include our special power spray application around the perimeter of the house, which establishes a secure barrier to stop any and all traffic into the home.
One-Time
Our one-time pest control service provides a thorough treatment of the interior and exterior of the home, establishing barriers and keeping the bugs OUT! Products used inside are either baits (placed in areas where pets and children cannot access), or a light crack-and-crevasse spray application.
Monthly
This is a no-nonsense treatment plan that will be sure to keep you bug free! This plan will provide excellent coverage due to routine barrier reinforcement, keeping your home locked up tight against even the most aggressive and active insects. We highly suggest this plan for those nasty scorpions.
Bi-Monthly
With an every-other-month program, your home will have the benefits of a regularly reinforced exterior barrier while saving a little money in the process! This plan could be less effective during the summer months due to peak activity.
Quarterly
This service plan is for homes with light pest activity. While we offer the exact coverage as our monthly program, the Quarterly plan will give you results with limited application. Great for eco-friendly and green homes!
Seasonal
This plan is a great customizable combination of all the service plans we offer, ideal for homes looking to be aggressive during the peak months and still keep the barrier established in the offseason. As we all know as Austinites, there is never a REAL off season for insects. Always keep your home protected!
Termite Removal
As a special service, we do offer termite inspections and treatments. Using the latest products and technology, we will provide a comprehensive inspection, and education on the best treatment methods. We also do pre-treats on new construction.
Rats and Mice
Most popular in the fall and winter months, we will inspect the home and provide a plan to eradicate pests that have made it into your home. We offer humane options for those that are animal lovers. We use state of the art Thermal Imaging technology that takes the guess work out of locating animals in hard-to-reach places.
Fleas and Ticks
Yep! We handle those too! With the latest pet-safe Insect Growth Regulator (IGR) products, these jumpy pests don't stand a chance!
Bed Bugs
This hot button insect has taken our homes, apartments, and dorm rooms by storm! We offer treatment options to rid your residence of these nasty guys! From the Zip-N-Click certified mattress encasements, to our bed frame application, we will have you sleeping in peace in no time!
Fire Ants
Breathe easier knowing your yard isn't a land mine of stinging fire ants! Our treatment is applied to your entire yard, with the cost based on square footage. We highly recommend this for the springtime!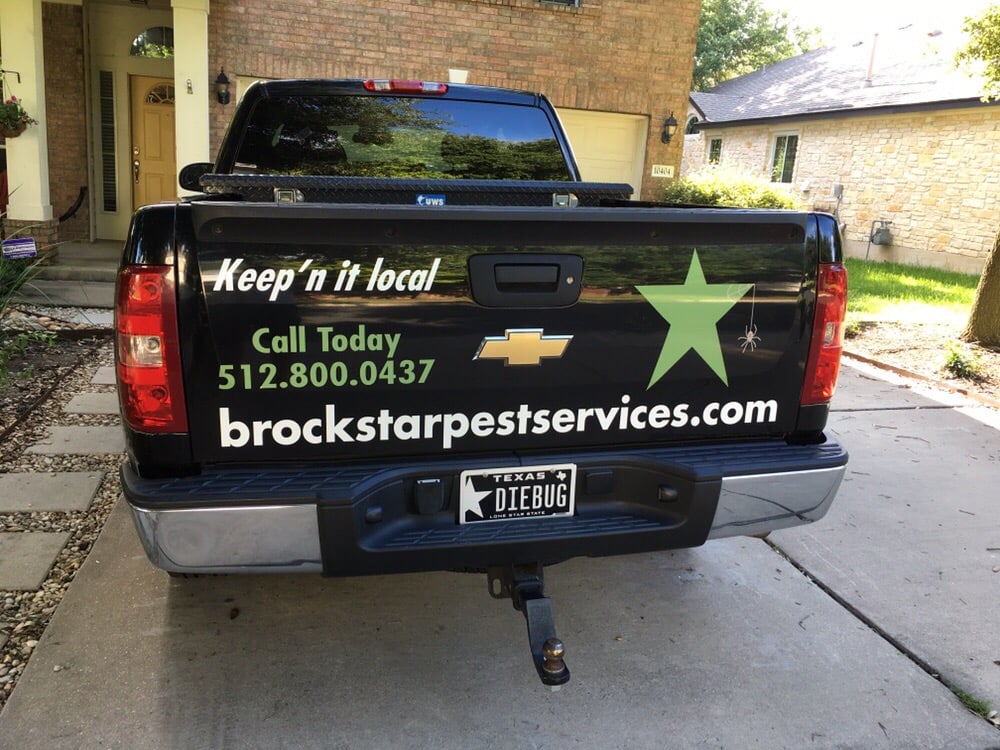 WHAT WE DO
At BrockStar we aim to provide top notch control with the least amount of exposure to you and your family. All of our treatments have been field tested to provide maximum control, targeting the areas that are conducive to infestations, and keeping the pests where they belong. We provide custom treatment plans specific to your home that will eliminate the target pests while maintaining the balance of the ecosystem. Believe it or not, there are beneficial insects. Just because they crawl doesn't mean they have to fall!
We also offer tips on IPM (Integrated Pest Management) for those that are strictly green and/or sensitive to products.
BROCKSTAR'S SERVICES
Our treatment methods are derived from one simple idea: keep the bugs where they belong, OUTSIDE!
We start our inspections by searching for any openings or clear paths into the home. If any are spotted, then we will discuss the different strategies to make sure the bugs won't have easy access into your home.
Once we identify all of the conducive conditions on your property, we will set up a perimeter treatment around the footprint of your home. This roadblock for bugs trying to move in is one thing that separates us from our competitors; we want to keep interior treatments to a minimum, thus reducing exposure.
Our seasonal program is our most popular providing an aggressive attack during the summer and then reducing the treatments in the winter. It is very important to take a proactive stance with keeping the bugs out so routine maintenance of your exterior residual is recommended.
QUESTIONS ABOUT PEST CONTROL?
Identification is the most important element in pest control. We understand that the last thing you want to do is touch the pest, but if you can, we ask that you grab the pest with a paper towel, toss it in a Ziplock bag, and freeze it. Once our experts arrive, they will be able to ID the insect and put the proper plan together to send it packing! Proper identification is instrumental in reducing the killing of beneficial insects, and lessening the use of products.
Please take a look at the Pest Guide for more details on identifying your pest, and rest easy knowing that BrockStar has your back. We've seen it all before, and we're here to save the day!