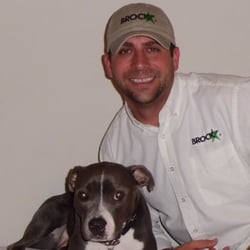 ABOUT BROCKSTAR PEST SERVICES
As a local company, we know that we can handle every pest that Texas has to throw at us. Our founder Brock Anderson is certified by the Structural Pest Board of Texas, and holds over 20 years of experience as a Texas pest control specialist for industrial, commercial, agricultural, and residential clients. Our on-staff consultant is a Ph.D. Entomologist with 30 years of experience solving the toughest infestations.
While large pest control chains often give their residential customers a "one-size-fits-all" treatment plan, BrockStar applies scientific expertise to your pest issue and only recommends the treatments you truly need. Our goal is to save you time and money by treating right the first time, so you can get back to enjoying life. Bugs gone. Brock on.
WHY CHOOSE BROCKSTAR?
Not all pest control firms are created equal. If you're searching for the perfect people to keep your space safe from all types of creepy-crawlies, it's a good idea to know what to expect from the best.
"I hope no one ever has to deal with critters… but if you do, I would highly recommend BrockStar!!"